Toys have come a long way since I was a kid. Well, not really…but technology has advanced quite a bit and toy production has improved. One of the big steps has been Facial Scan technology that has improved how our dolls and action figures look. I remember a day when our toys looked nothing like who they were supposed to be, and we were happy! Well, not really.
Innovations in toys to improve the way they look, feel, sound, and even interact came later into my childhood and signified a new era in play. Whether this progression be primarily in toys, games, or education still remains to be seen, but toys, for the most part, seem to be getting more intriguing. I can't help but feel a certain uncontrollable jealousy…I loved the toys I had when I was a kid, but now, looking back…they were all pretty shitty.
In light of this, I thought I would show these fuckers (purely as an exercise in tantrum-throwing) the  10 most disappointing toys of my/our/your childhood.
Why we thought it was cool: As toys advanced, Transformers no longer relied on children imagining that their robotic automobile-shaped hunks of plastic actually resembled the characters they saw in the cartoon. Transformers were cool again because it actually took some skill to assemble them. They looked similar to the characters they were portraying and everyone knew you were well-off if you had the more expensive ones.
Why it's disappointing: Nobody watched the show because the whole concept was kind of gay. Not that Transformers as a whole wasn't ridiculous, but swapping out bad-ass trucks, jets, and military vehicles for talking animals is a severe lapse in masculinity. The toys did spark a resurgence in regular Transformer sales…only because cool kids needed to prove to the Beast Wars kids that they weren't pussies.
9. Teenage Mutant Ninja Turtles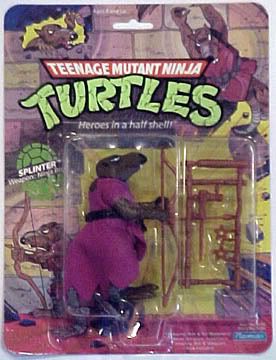 Why we thought it was cool: Let's face it, we were all so deluded into thinking that the Teenage Mutant Ninja Turtles were cool that some of us still blindly keep the nostalgia in a locked box, refusing to see it for what it was–a shitty kids' cartoon. There were some undeniably mature elements to the original TMNT source material, but as much as you tell yourself that the NEW Teenage Mutant Ninja Turtles sucks, it's golden compared to the old one.
However, as children, we were stupid enough to look past the terrible animation and ridiculous characters and enjoy it. That, and every-fucking-body had all of these toys…even the obscure ones that no one ever actually played with: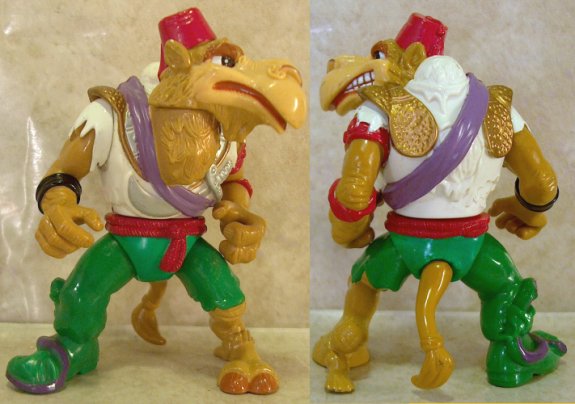 Why it's disappointing: If the above picture isn't enough of a reason, let's go a little deeper. The first step to recovery is to admit you have a problem. Some things are worth being nostalgic over, but Teenage Mutant Ninja Turtles should hardly be one of them. We all had a good time with the heroes in a half-shell, but it's time to let them go.
Despite the realization that the cartoon was 3rd rate, think about the old toys…all of the weapons were still in the fucking plastic molds. We had to work to pull out the monochromatic shards of plastic that only slightly resembled their accessories only to lose them all later that day. And then, the toy series just got…fucking weird:
Why we thought it was cool: The Furby should require no introduction. After the demise of the "Virtual (Keychain) Pet," this was the next step in giving children responsibility that they shouldn't have. Every kid thought they wanted a Furby. I think my house gave shelter to three. For the first few days after the initial adoption of these Mogwai rip-offs, kids didn't just get bored with them…
Why it's disappointing: …they were annoyed-to-all-hell with them. The Furby's concept was simple…a 'living' virtual pet that could show pseudo-emotion and (at some point) learn. Furbys didn't die, and somewhere, I'm almost certain that every discarded one of these fuckers are still in tact and probably forming the building blocks of the most piss-annoying society known to man.
Furbys could communicate with one another, which only served to twist the knife. They would jabber on endlessly and if you managed to keep them alive long enough for them to pick up ENGLISH, they would wake you up at all hours of the night with a soft, creepy, robotic "I'm Hungreeeee…"
Furbys reached their peak when it was discovered that they could "learn" too much. They became a security threat based on the (probably unfounded) theory that they could scan Top Secret information into their data banks. Furbys caused 9-11.
7. DigiMon
Why we thought it was cool: Before the advent of the lifelike robotic pet, we had "Virtual Pets." Tamagotchi came first, introducing us to the wide world of interminable beeping keychains that needed constant attention. The beauty of DigiMon (which was a precursor to POKeMON) was that it was presented as a non-gay way for boys to have a Virtual Pet. There was (still is?) a cartoon show that nobody watched, and offered little-to-no competition with POKeMON.
Why it's disappointing: Once POKeMON came out, virtual pets GTFO'd. "I'm sorry, is your keychain beeping? I just caught 150 virtual monsters on my GameBoy and earned 8 Victory Badges. Suck my balls."
There wasn't much improvement in this toy over Tamagotchi except for the ability to link yours with a friends and make your monsters fight (no homo). The only problem here was that none of your friends had the fucking thing, so yours was essentially useless. It was, however, a fine middle-of-the-road between pointless and awesome.
6. Mighty Max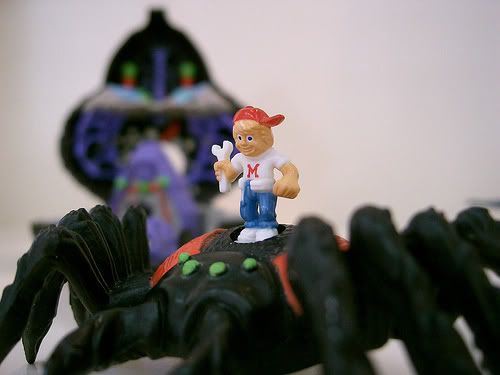 Why we thought it was cool: I'm pretty sure Mighty Max came out around the same time as Polly Pocket, but had significantly less staying power. Pocket playsets for boys was a genius concept that still remains to this day (with minimal improvement needed). Mighty Max was appealing because he was a kid (hey, just like me!) who found himself in all kinds of ridiculous peril with monsters ranging from the Skull Master to…say…a fucking dinosaur.
These toys allowed kids to use their imaginations, because…well…they had to. There wasn't much there to play with, and that's where the disappointment comes in.
Why it's disappointing: Max, along with his gladiator pal Norman and his…wise bird(?) Virgil were captured in the short-lived animated series. I'll bet you forgot they existed, didn't you? Well, not me! Mighty Max found a way to exploit every single avenue from massive playsets: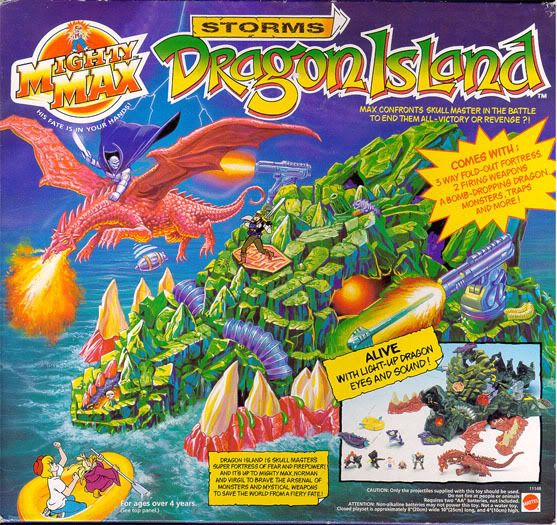 …to McDonald's toys and watches! They did this without ever once considering improving the model. Everything about Mighty Max was lackluster, from the tiny blobs of dual-colored plastic to the playsets that lose their charm after you've played out every possible scenario that the backdrop could offer. I will admit that I got extremely giddy looking at all the Mighty Max sets that I used to own…but then again, I'm retarded.
5. Crash Dummies
Why we thought it was cool: Let's face it, "we" didn't. Only a specific audience liked these pieces of shit, and I was amongst that crowd. The brief (ridiculous) animated series made no sense and went absolutely nowhere. This was a tool to learn about automobile safety protocols while appealing to vindictive children who just wanted to watch a human body be blown the fuck apart. Violence in the name of safety only appealed to nerds. Everyone else was playing Mortal Kombat.
Why it's disappointing: Imagine opening a big box on Christmas morning and finding this. A normal child would be massively disappointed. I was actually excited, because I was insane. Crash Dummies wound up being the toy for children who loved to destroy things. The beauty of this was that when you threw the cars/planes/people up against the wall, shattering them into pieces, they could be snapped back together…or so you thought.
No, these toys were supposed to break apart, but only mildly. If you were too forceful with anything, it would cause irreparable damage; not to mention the fact that once the figures blew apart, their limbs were launched god-knows-where and lost forever. A collection of these toys would, after several weeks, become a bin of missing parts, broken ensembles, and limbless bodies.
4. Creepy Crawlers!
Why we thought it was cool: Creepy Crawlers came out a long time ago, but it has been reissued so many times that I happened to grow up with it as well (as I'm sure you did). I'm not sure if this was ever really considered "cool," but it allowed for creative boys, who didn't want to be called "fags" for asking for an Easy Bake Oven for Christmas, the opportunity to use a small plastic oven to cook up some inedible rubber garbage. It was fun because it wasn't gay.
Why it's disappointing: While you would think that a frighteningly hot plastic box that existed to heat up metal molds so that boiling plastic goo would turn to rubber would be a little boy's wildest fantasy, it was not. It was almost as if parents who bought this unapologetic, dangerous monstrosity for their children were saying "You gotta learn someday."
This was our generation's "let them learn the stove is hot for themselves" and we've got the blisters, scars, and haunting memories to prove it. After a prolonged period of telling ourselves that we weren't going to burn ourselves "next time," we Creepy Crawlers  enthusaists vowed "No More!" and gave the fucking thing away to the next dopey sap dumb enough to try to cook themselves up some bugs. But hey, at least they didn't ask us to eat the fucking things, right?
3. Z-Bots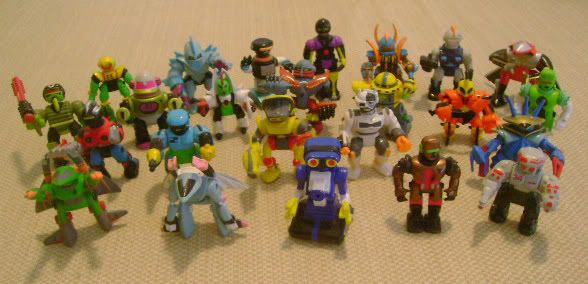 Why we thought it was cool: Unlike the massively disappointing Go-Bots, these colorful little scamps did absolutely nothing but "be collectible." They, like tiny figurines in their niche (i.e. Muscle Men and Monsters in my Pocket), were dinky hunks of plastic that could be safely concealed in one's desk during boring classes…and everyone had them, whether or not they would admit it.
Why it's disappointing: As if I had to go into it, they were miniature action figures that did absolutely nothing. They might as well have come from a vending machine, but we paid all kinds of money to collect them all. While all the cool boys were playing with Transformers and shit, you were stuck with pointy shards of plastic that would get lost all around your house until you unwittingly step on them, barefoot.
2. POGs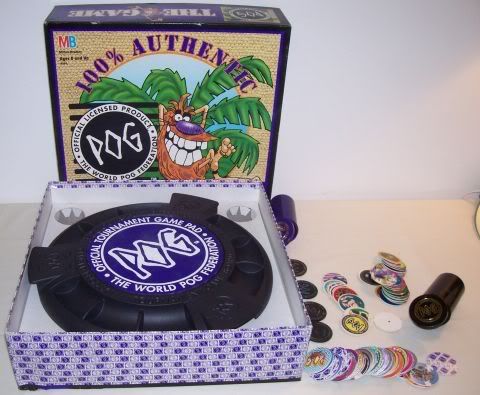 Why we thought it was cool: POGs defined the market for collectible gaming…and that market was: just about everyone. Printed with virtually any picture imaginable, POGs were the marbles of our generation. They were insignificant manufacturing mistakes that became an unimaginably popular way to teach kids to gamble.
Why it's disappointing: When the fad died, you came to the harsh realization that the last several months of your life were thrown away, hoarding round pieces of brightly colored paper. Also, fuck those kids who had metal Slammers.
1. Crazy Bones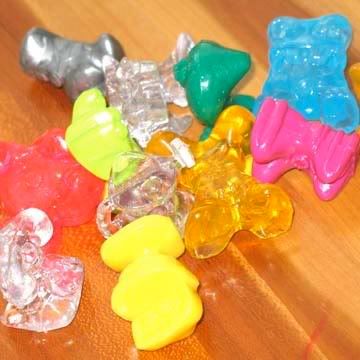 Why we thought it was cool: If you've never heard of Crazy Bones, I must assure you that they existed and continue to exist to this day (I think). Essentially, they were plastic marbles, molded into various "character" shapes–which gave kids an excuse to try to collect all of them. There were many games you could play with Crazy Bones and schoolyard fun was had by all (except for the kid who got his stolen and/or thrown into the stratosphere).
Why it's disappointing: Unlike POGs, these collectible game-pieces weren't something that a lot of people actually cared about. As with any collectible game that requires like-minded friends, the only way to make it worthwhile is if more people have them than just you. I wound up giving all my duplicate Crazy Bones to a friend just so I didn't die of loneliness.