The Black Keys–El Camino
In this Danger Mouse-produced follow-up to "Brothers," The Black Keys seems to be doing something a little different, and that's great. A few people may see this as a complete transgression from their previous work, but I totally dig it. The Black Keys have an eclectic sound which enables them to do anything from gritty blues and folk to Acid House Country R&B. Not only that, but they lend their talents to hip hop in their multi-artist release, "Blakroc." Now, although Danger Mouse (Brian Burton) is famous for mixing, producing, and performing on some of the best albums recently, some may still be skeptical. There are some phenomenal songs on this album, so give it a chance. You may not fall in love with it at first sight like "Brothers" (Danger Mouse produced the song Tighten Up on "Brothers" and the Black Keys album "Attack and Release"–thanks FYP), but it will grow on you, I promise. Maybe like a 'step-Brother' or something. "El Camino" is definitely slightly less earthy than its predecessor, but it has just as much heart. Wait 'til you hear the singles a couple times and decide for yourself. Here's a taste.
The Roots–Undun
Though this makes unlucky album number 13 for Philly's The Roots, most bands don't make it this far while still being not only relevant, but viscerally entertaining. For this, The Roots' first concept album, they take us on an adventure through the life of fictional hustler Redford Stephens from his death–at age 25–to his humble beginnings as he inevitably chooses his dark fate. While I didn't particularly enjoy their collaboration with John Legend (Wake Up!), I made their previous release, How I Got Over, last for as long as possible. The Roots, having been together for about 25 years, possess an unfathomable array of talent that is always focused well, but tends to work unevenly here and there. Undun is one of the most focused and enjoyable records I've heard from them, and it is a very good sign for what's to come. Since 2009, they have been the house-band for Late Night with Jimmy Fallon, a full-time job which may have caused their music and/or motivation to deteriorate. But The Roots remain resilient as ever, picking up from where they left off, at the top of their game–looking back only to see how far they've come. (Here's the video for Make My, one of four videos that you should probably watch in order)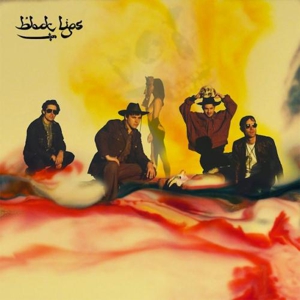 Black Lips–Arabia Mountain
If you're a punk rock kid, hipster, drink PBR, own a bike, or have ever been to a party, you should already know everything about Black Lips, so what can I say? Going from Bomp Records to In The Red, and landing on VICE did not change the "fuck you" attitude this band has–and while their music has appeared in TV shows and movies, they are yet to enjoy that Musical Holy Grail of selling out and becoming boring. Whether you consider them "punk rock" or not is arguable; however, I would say they have embodied every essence of the punk base to use them in any argument against someone who claims that 'punk rock is dead.' They remain on a pretty-much-Indie label, sing songs about Spider-man and anarchy, and sound like their music was recorded in a basement 30 years ago. They're a scenester's wet dream. Go Out and Get It!

Noah Gundersen–Family
If you've been following Sons of Anarchy, you may have heard at least two Noah Gundersen songs without even realizing it. Everything about his music is almost calculating and beautiful. So much so that I sped up some tracks so it sounded like a female voice singing, just so I didn't feel so totally gay for Gundersen. Following in the breathy indie singer/songwriter tradition as Bright Eyes' Conor Oberst, Gundersen tells stories in his songs that took older musicians decades to perfect. One of the best things about Noah, which can not be said for many other indie artists (with the possible exception of Jim James), is that his voice and musical talent creates such a broad blanket of appreciation. You will love this, and (for better or worse) so will your parents. One of the best musical treasures I've happened upon since Dan Reeder. This is the title track from the album and the first song I heard him sing: Family

Rihanna–Talk That Talk
Rihanna is the most beautiful woman on the planet. Yes, it's true. I don't know how much more she's got left in her, but I can only hope she goes on forever. Hip Hop and R&B in the mainstream are slowly moving into a whirlpool of Club, Dubstep, Bubblegum, Electronica, etc–but if it's coming out the other end like this, I ain't even mad. But why do I like this while not particularly caring for Lady Gaga? Perhaps it's the sex appeal; maybe the years of reliably consistent yet constantly evolving material? Maybe it's because Obama's president? Who knows? Not all of it makes me want to swag out, but it's a solid album. It fits right in amongst Drake and friends on my iPod, too! And I bet Johnny Cash wouldn't even be mad at Where Have You Been, either.

Childish Gambino–CAMP
Donald Glover is a young man of many talents. He was even the subject of a completely unfounded rumor that he would be the new Spider-Man. Glover, a hilarious and perhaps a bit esoteric young actor and comedian has performed in the comedy Mystery Team as well as the increasingly popular show, Community. Most recently, however, you can see him on his Comedy Central special "Weirdo." Almost constantly funny and filthy new hip hop has become such a pleasure lately. It's such a clash from the norm and shows that there is a real community out there to appreciate something new, spirited, and influential. Odd Future has proven this as well. Only time will tell if this breed of young, self-made (nerd-core?) rappers will rise to the top...but in the meantime, check out Childish Gambino. You can hear the passion in Glover's voice as well as the unadulterated FUN he's having with this music. Also, check out his EP featuring the single Freaks and Geeks.