Let's start off with a bit of honesty: I have listened to some pretty shitty music in my time, and I'm sure many of the bands I enjoy, some of you would find objectionable–but that isn't the point.
This is a list of bands that I feel that I can make a strong case against; not only for their lack of talent in the broad sense, but for their destructive nature. Their mere presence in the musical scene contributes nothing to the future of auditory illumination, but rather fucks society by creating young musicians who will inevitably look up to these assholes for inspiration…
…and will therefore destroy the next generation of music as we know it.
10. The Jonas Brothers–I suppose there's no list without at least mentioning The Jonas Brothers. Because they started off as a campy TV band, it's not totally unfair to compare them to The Monkees (they've even got their own Mickey Dolenz), but you shouldn't…ever. Why? Because The Monkees never gargled balls. The Jonas Brothers not only swell teenage hearts, but also (somehow) win over the minds of adults who vote for things like American Music Awards and motherfucking Grammy's. The Jonas boys almost didn't make the list because their future isn't totally bleak. Take this prediction for what it's worth, but I think there's a strong possibility of a semi-decent future for Nick Jonas (even if that future only entails acting as a better musician in an Oscar-bait bio pic).
9. 3OH!3–Our dedicated readers may recall an article where I praised 3OH!3's album Want. Perhaps the pairing with Katy Perry–that's right, Katy Perry–and the light-hearted electropop peaked my interest a bit too much…but now they've got three albums and the ball has been dropped. That's presuming they ever had the ball to begin with. What's even more interesting is the "gang" that bands like 3OH!3 seem to be a part of–and yes, they're all on this list, so I won't spoil the surprise. 3OH!3 only managed to make it to number 9, and I know some of you may be disappointed and disgusted by this. The only reasoning I can give is that there are worse (yes, worse than "I'm gonna have a House Party in my House") groups…and it's hard to be too mad at a shitty band from Colorado. They don't know any better than to be a pantload of douche.
8. Justin Bieber–Yes, yes, I know. Too easy, right? Of course Justin Bieber isn't going anywhere good. Maybe a few more years in the public eye, then disappearance, then he comes out of the closet, and by then all the girls who used to scream at him won't give a shit anymore. That's why the little lesbian only made 6th place–there's really no harm done in the long run. The only major concern is that his stardom seems a bit too conveniently timed, especially for a Canadian, wiping various International disasters off of Twitter's Trending Topics list for weeks. One of the popular notions surrounding his instantaneous rise to stardom is that the fanaticism is reminiscent of the days of BeatleMania. The only difference, of course, being that The Beatles were among Britain's most awe-inspiring exports; and I believe Justin Bieber is still trailing behind Canadian Bacon.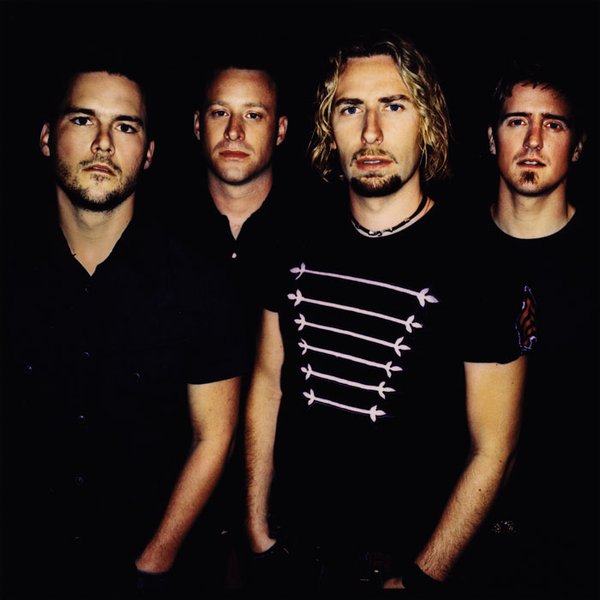 7. Nickelback–Ah, Nickelback, the band who famously lost out to "a Pickle" in a much-publicized Facebook race. There have been plenty of parodies and plenty of anti-Nickelback voices heard, but the reality is that they are still such a strong voice in the music community. They just won't die. Alright, let's be fucking real for a minute: when Creed came out, everyone was all about them–uh, uh, shut the fuck up, YES YOU WERE. They had all the biggest rock hits, they had all the hit movie soundtracks, and they were IT. Then, everyone realized they were listening to a shitty Pearl Jam rip-off and they cleared the scene…But Nickelback somehow still hangs on; even though they're a shitty Creed rip-off of a Lifehouse song that was trying desperately to be Pearl Jam. Nickelback needs to go away…oh, but wait, before you go…could you just leave us the video for Rockstar, 'cause that video kicked my balls in.
6. Hellyeah–I'll admit, I don't know a hell-uv-alot about Hellyeah, but that's probably for the best. There once was a man named Johnny Cash, and from him was spawned a man named Johnny Paycheck, and they fucking defined fucking Country. If you're going to be Country, you need to be them–just like if you're going to be rock n' roll, you need to be The Rolling Stones. Some have done it–and props to them. Are you going to be as good as the Stones? No. But can you be like the Stones? Abso-cunting-lutely. Hellyeah embodies that ghost of Kid Rock that hasn't yet crossed over and never will. They have this sensibility that "well, everyone thinks Country is all about fucking your cousin, so let's fuckin' give it to 'em. YEAH!!!!" …which is always a mistake. Country and folk music were never about being the "cool kid." It was about being "different" (in a manner of speaking)–being separate from 'dem city folk who don't "get" it. Hellyeah not only destroys Country Rock, but winds up making the barrel-bottom Country Pop Stars look like lyrical geniuses.
5. Boys Like Girls–Simply put, trash rock (or what Weezer fans would call "pussy rock") is a phase we all went through in High School, when, even though we were all getting some, we had this notion that life was twisted, weird, and utterly bleak. Not such a misguided thought, but we were total fags about it. We listened to shitty music and couldn't help sing along as if the lyrics were meant especially for us. But, you know what? We did it well–and we rocked. Boys Like Girls, a pop-punk hodgepodge of mediocrity, don't work on any level. I can accept you playing along-side Good Charlotte, because–fuck it…but if you're playing with iCarly, your number's up. Big time. I get it, they're a bunch of hunks who play some mess of standard 'emo' that I totally thought was over, but there are plenty of bands who do it so much better–and with more honesty(?). If you want my advice, and I'm almost certain that you do: Stop getting Love Drunk and get real drunk like a fucking adult.
4. Shinedown–Zzzzzzz…oh, what? Hm? Sorry, I thought I was having a fucking nightmare. Nope. This band exists. Let me give you a little back-story here…I was going to (and I mean struggling to) but Insane Clown Posse on this list; and I couldn't. ICP has no future in the entertainment industry and never realistically had a chance. They have a limited following, and to everyone else they're a joke (including themselves, probably). Shinedown, for some reason, has a huge pop following, and I can't wrap my brain around it (and I haven't tried). Brent Smith is the lackadaisical equivalent to AFI's Davey Havok–similar in their ladylike appearance and pseudo-intellectual prose…I'm sorry–you can't make a song like "The Crow and the Butterfly" without incurring a certain degree of internet-related "shame-on-you's." At least Insane Clown Posse had the decency to say "I know, we're retarded…" (imagined, not dictated) But you seem to fuel off of the retarded teenage notion that this song has some kind of deeper meaning. It doesn't. You don't. Your band blows. Give it up–or you'll be sucking Kid Rock's withering cock in the back of Uncle Kracker's meat-wagon.
3. Ke$ha–Well, the party's started and I'm sure I haven't been invited, because–aside from radio and mock-news shows, I haven't heard any of Ke$ha's shit played anywhere. And that's for the best. Ke$ha is the first victim to our number 1 offender of music, who you might be able to guess at this point. She exchanges image for quality–and while this has been done before, and at great length–it seems to have been awkwardly recreated by a stupid modern generation. Ke$ha attempts to represent the hipster class, the non-mainstream, the I'll-do-what/who-I want-and-I don't-give-a-fuck niche. But she pulls it off almost too well, which creates suspicion. How did she catch on that all punks, hipsters, and indie kids are fucking hypocrites? It took me, like, 7 years! It's hard to be the anti-pop star when you're a total sellout pop star. If real hipsters don't dig it, who does? That's a serious question, because hipsters seem to pick up the dregs of every modern phenomenon and play it off as cool until it blows pop-spunk all over their greasy hair. Ke$ha blew her load with her first single and now she's riding the faux-hipster wave until she dies alone in a cave with a shotgun in her mouth like Weird Al Yankovic.
2. LMFAO–Are you drinking now? Taking shots? Good. Let's hope so. You may not know the name LMFAO (aside from that it stands for "Laughing My Fucking Ass Off"….nerd), but you are almost certainly aware of the irritating beat of "Shots, Shots, Shots, Shots, Shots, Shots, EV'RY-BODY!" It's kinda hard to miss. I'm not sure what Electro-hop is, but I don't like it. They embody a somewhat satirical look at the hip hop community while doing everything in their limitless power to indulge in it. Like an annoying ring tone, it doesn't take long for a sane and rational person to snap on whoever chooses to play it. LMFAO should be the universal answer to the question: Come on, the DJ couldn't have been that bad, could he?" You know how you used to love that Will Ferrell movie until every asshole you know started quoting it until you couldn't take it anymore? That's the feeling you get when you listen to one LMFAO song–Oh, that's kinda funn–waitaminute, I hate you and everything you stand for…" How long can a novelty band really last? You don't want to know.
1. Lady Gaga–You've hit the nail on the head. This is going to be an unpopular one–I can feel it. Lady Gaga is truly an inspiration. Her music has spawned some pretty awesome shit–and come on, if you hear one of her songs playing, you want to get your geeky pelvis thrust on. Shake it off, pervert, that's not the point. The point is that Lady Gaga (or Stefani Joanne Angelina Germanotta) is my age and was once a musical prodigy. There was a time when musical geniuses remained musical geniuses and graduated to the school of making musical genius fucking music...but, sadly, that train has sailed. I don't know what she is now, but it's terrifying. Had she stuck to her guns and not given up on herself to the point that she wanted to turn into someone else, she may have been amazing. She has become a zeitgeist…and a frightening and haunting one. Her music is played everywhere, and it's so shitty compared to what she could have been.
Celebrities and teen idols have been around forever–I get it–but it sucks when someone who is full of so much independent talent is molded to the norm of "you can be famous just for being a fucking whack-a-dick. Lady Gaga is not popular because of her music, she's popular because of her style and "fuck you" attitude. And that's fine–I'm all for it–but leave the music behind and embrace the life of the celebutante.
Everyone hates Paris Hilton, but fuck it–she is what she says she is–and though she tried to be a musician, she failed and nobody gives a shit anymore. Our children are taught by the means of antiquated motto's: "Do to others as you would want done to you," etc…But the motto, "You get what you give," should never be dismissed. Gaga may have the hardest working vag in show biz, but her aura is clearly one of: "Be an anti-social monster and eventually people will love you."
Everyone is given a break once-in-awhile. It's natural. A cop lets you go. You inherit some money. That 14-year-old's parents isn't going to press charges…
And I'm not saying that celebrities should have to live up to some kind of moral code or tell kids to stay off drugs. Kids know to stay off drugs; Amy Winehouse taught them that. Lady Gaga doesn't have to change. She doesn't have to do anything differently; we just have to stop celebrating her for it. Fine, we can sing along while we ignore her. Happy?
Long story short, we can't sit back and say "We're ruining things for our children, and our children's children," anymore. Only old people say stupid shit like that. We're ruining things for us. NOW. Just because we destroyed our taste in everything, it doesn't mean we're not going to be around to deal with the repercussions of it all 40 years down the road.
Run and tell that.