"For the next six months, Al Gore is going to smear you as the enemy. He will slander you as gun-toting, knuckle-dragging, bloodthirsty maniacs who stand in the way of a safer America. Will you remain silent? I will not remain silent. If we are going to stop this, then it is vital to every law-abiding gun owner in America to register to vote and show up at the polls on election day…"
Heston paused, picked up a replica of a Revolutionary War musket, and continued:
"…As we set out this year to defeat the divisive forces that would take freedom away, I want to say those words again for everyone within the sound of my voice to hear and to heed; and especially for you, Mr. Gore: 'From my cold, dead hands!' "
–Charlton Heston (2000)
Well, Charlton Heston is dead in the ground. Those bumper stickers will last forever, however. I'll try to keep this as un-political as possible, and instead try to focus on something that both sides of the "Gun Debate" fail to mention.
Guns are cool. And they're fun. These two facts statements emotions facts are the main reasons for my purchase of a gun.
For the rest of this article, I think I'll just have a bunch of neat pictures and type underneath. They were taken with my cell phone (and I forgot that it was on Sepia, so they look even more bad-ass). Nevertheless, I present to you…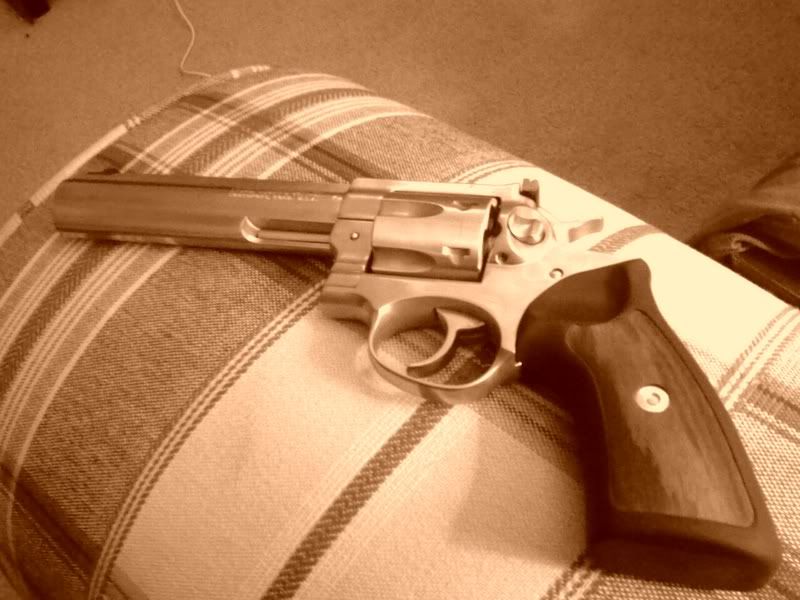 The Ruger GP-100. 6″ barrel, 46 ounces of stainless steel, manufactured in the GOOD OLD U.S. of A (SIMIAN GRUNT). This bad boy is a double action revolver, which means that you can pull back the hammer into place before firing, or just pull the trigger and let it go BOOM (and I assure you, it DOES go BOOM)!
It's a nice feature, even if in normal use you'd never just pull the trigger to shoot it, you could, in fact, still do it in an emergency.
(Fun Fact: I'm getting the hang of using the strikeout feature like everyone else on blogger…)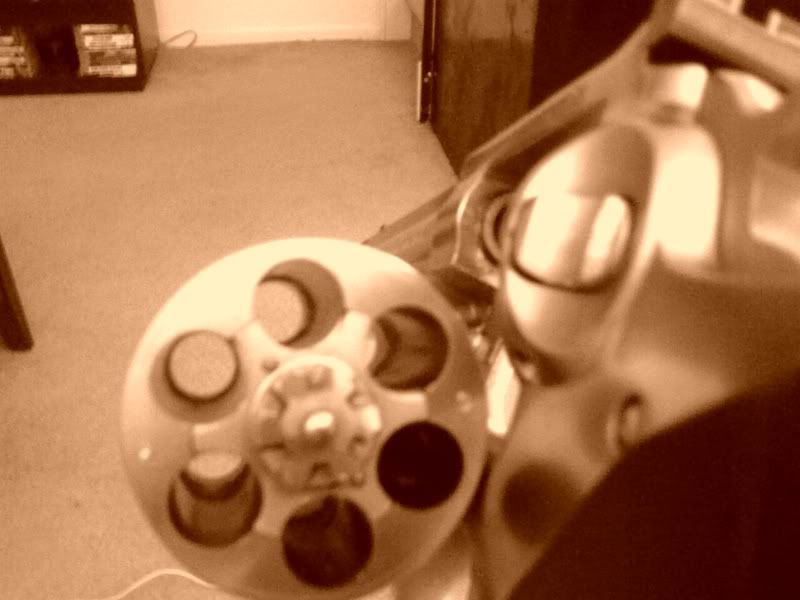 So the thing shoots .357 magnum rounds, which Wikipedia says is fine for deer, but inferior for shooting ungulates and bears.
That's enough power for me. I'm not going big game hunting anytime soon, nor will I be hunting ANY dangerous game, for that matter…
But I digress. back to my gun. Why did I buy it? What was it like? So on? So forth? Etc?? Well, I bought this particular model after shooting the Smith and Wesson 686 6", which is almost the exact same gun.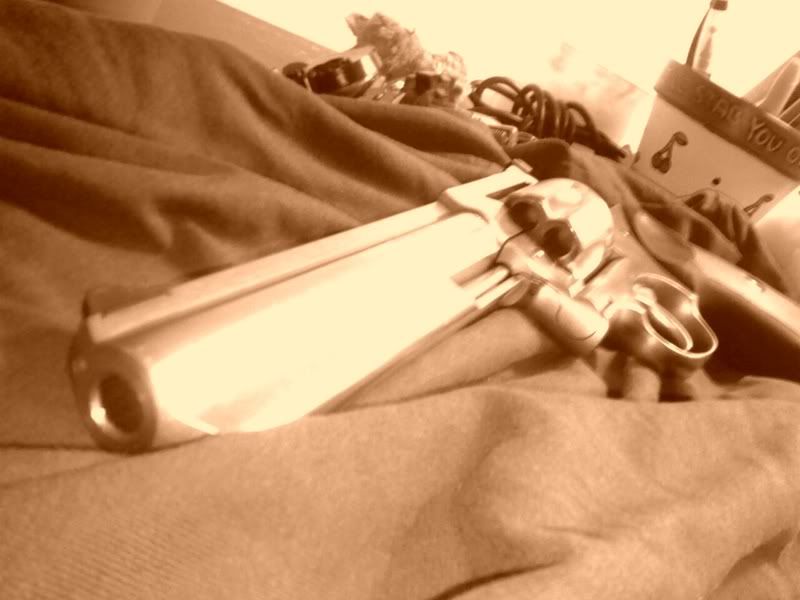 I was at Targetmasters, somewhere near Delaware, and told the guy I wanted to try a revolver, and asked what he recommended, and he pulled that out of the cabinet for me to try. I shot it in their range and fell in love. Well sir, when I found out how much those things cost, my little heart was broken.
I didn't have $600-$800 to drop on something like that. So I looked around, did some research, and arrived at my decision. So, I took a trip up to Cabella's to check out their used gun library, and Eureka! Found what I was looking for, asked a few questions, and started the fun process of buying a gun. Having bought the gun in the great Commonwealth of Pennsylvania, the process was fairly painless.
I had to fill out a form or two, and have my ID checked to make sure I wasn't in the system anywhere, and about 30 minutes later, it was waiting for me at the check out counter.
(Fun Follow-up: I asked where the trigger locks were kept and they looked at me confused-like, and dug around in the Lost-N-Found box and handed me one with a key for it)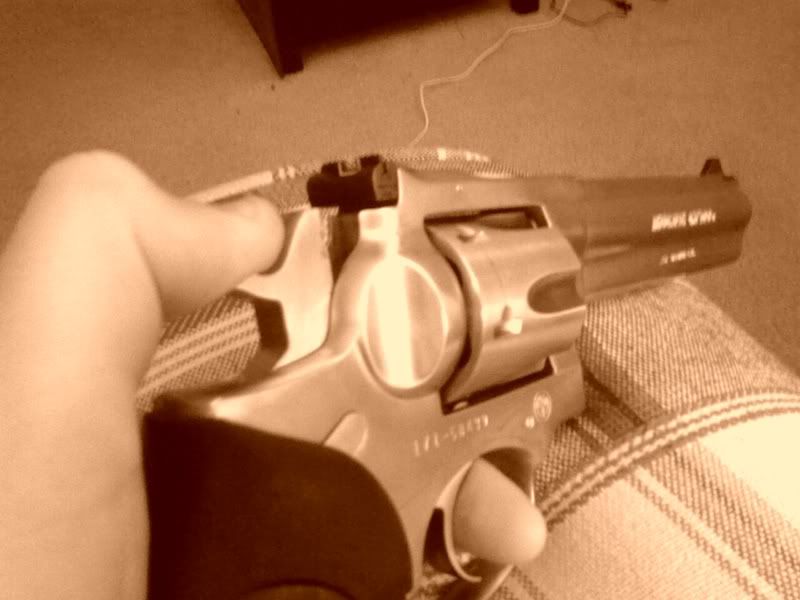 So I got a free trigger lock, a few boxes of ammo, and headed on home. Actually, I went to dinner with ANTHONY(!!!) first.
Now that my computer's battery is running low, I'll wrap up by talking about shooting the thing. As a .357 magnum, it can, of course, shoot 357 ammo, but it can also fire the similar .38 Special round, which is significantly less powerful (and significantly easier to hit the target with).
So overall, I'm very happy with it, and I think it'd be a great piece for anyone looking to get into the sport. Also, if you've never been shooting, don't be afraid of it. That's really the most important thing.
Give it a try, grab a friend and head down to the range. The people there will be super nice and helpful, and if nothing else, you might leave with a better understanding of a hobby enjoyed by millions of Americans.
I'll talk politics the next time I talk guns.